- - - - - - - - - - - - - - - - - - - - - - - - - - - - - - -

My Korean Name is Kim Chae Rin
My Japanese Name is Kojima Ayumu
My Chinese Name is Kwan Li Na
My Arabian Name is Nasuha Esmael
My Siamese Name is Su Ee
My Nick Name Here is Yunaa Yoo ~~~~
v(^_^)v

- - - - - - - - - - - - - - - - - - - - - - - - - - - - - - - -

I hope your tears are few and fast
I hope your dreams come true at last
I hope you find love that goes on and on and on and on and on
I hope you wish on every star
I hope you never fall too far
I hope this world can see how wonderful you are

v(^_<)v v(>_^)v
- - - - - - - - - - - - - - - - - - - - - - - - - - - - - - - - -
I'm an Asian girl who now obsessive with K-Pop especially DBSK, Big Bang, SuJu, SNSD, Wonder Girls and lately 2PM, JE artists such as KAT-TUN, News, K8, HSJ, Arashi and Kisumai... I'm tried to practice my English here... so if I used incorrect grammar, please forgive me and I'm glad if you point me out. (^_<)v
Current Mood:

excited
when EXO won Song of the Year at MMA, Luhan was crying so Jongdae comforted him while smiling and holding back his own tears ㅠㅠ it's okay to cry too ㅠㅠ
Eu reu rong~~~
Apparently lol
Current Music:

more than words - westlife
how is this the same person???
Current Music:

cry me a river - justin timberlake
currently i'm really addicted with Exo!!! so shameless right? hahaha... even though they are younger than me... but who cares!!! they totally have bewitched n makes me forgot all their sunbaenims... (sorry dbsk duo... sorry jyj.... i just really blinded by them now!! T_____T)
ok back to the topic... just wanna share some random photos of their pre debut... they look amazing~~~
Chenchen is my 1st favourite!! I do really loves to hear his singing... n he pretty adorable too... but sometimes he seems stupid... hahaha... but that is his charms right... n___n how i wish my younger bro just like him... hohoho... keep dreaming~~~
LuHan~~~ oh... no words can describe how cute, handsome n gorgeous is he... sometimes i'm speechless when see him but i do like his adorable laugh n when his shy or lost at word during interview... kyaaaa... i'm struck!!! hahaha... but he truly has visual impact in the group... at 1st i do not recognize which 1 is him... always mistakenly him with sehun n kai... poor me coz they have really similar face n height... thanks to weekly idol... at last i recognized him!!! n____<


Ok done with my biased! truthfully... i love them all when they together... coz that's what makes them Exo rite? Can't wait for their new album in November!! I start to love them when they actively promoted Growl and make me digging into their past promotion... n guest what.. i love EXO M more~~~ hehehe... sorry exo K... may b its because chenchen n luhannie are there~~~ n___n
hi all!!!
Current Mood:

cheerful

Current Music:

okaeri - ayaka
eagerly waiting for the day... sooooo excited~~~ n___n
fangirlling overdose... heheh
Current Mood:

cheerful

Current Music:

Kim JaeJoong - Kiss B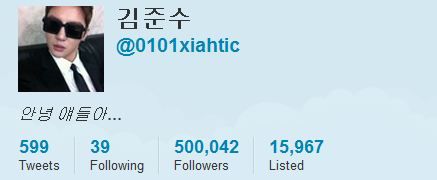 Congratulations!! and i proud to say that i'm one of them.... ngeeee~~~~
Current Mood:

cheerful

Current Music:

the boys by snsd
Group JYJ ranks top in October K-pop chart of Tower Records, a big music distributor in Japan.

On the 2nd, through its official website, Tower Records revealed its K-pop chart of October. According to the results, 'In Heaven' of JYJ ranked No1. No2 is The Boys of SNSD and No3 is 'Step' of Kara. 2NE1's 'NOLZA' ranked No4 and Super Junior's 'Mr. Simple' No5.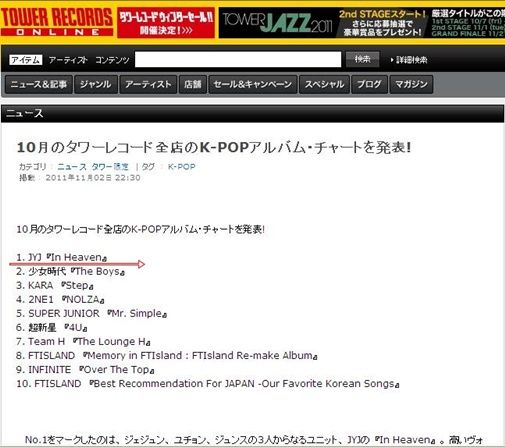 Netizens commented, "It's amazing that they still won No1 without any activity in Japan" "Go go JYJ" "3 men that the world pays attention to!"…
Meanwhile, after the success of their concert in Spain, JYJ will have their second stage in Europe with 'JYJ Europe Tour Concert 2011 in Berlin, Germany' at Tempodrom venue, Berlin, Germany on the coming 6th.

Source: Nate

Translation Credit: The_little_pear of JYJ3
They're really strong even being silent~~ n___n
Current Mood:

bouncy

Current Music:

girlfriend by Park Jae Bom
OMG YES #YJMKMF08 IS ON TOP OF THE LIST. NOW ALL THAT'S LEFT TO DO IS TO WAIT FOR @MJJEJE TO COME ONLINE & SEE THE MILLION CASSIES TRENDING MINDLESSLY FOR YUNJAE TO BE TOGETHER AGAIN!!!


Happy MKMF 2008 everyone!!! Go to twitter and show your love by tweeting
#YJMKMF08
!!!
Current Mood:

bouncy

Current Music:

get ready by jyj